Complexity Conquered
Sendflex's no-code Parcel TMS platform makes it easy for shippers to control costs, capacity, carbon, and their customers' delivery experience.

THE NEW B2C ENVIRONMENT
B2C Businesses Struggle with Limited Carrier Capacity, Higher Costs, and Delivery Challenges.
Gone are the days when you could rely on a single carrier to deliver all B2C orders. Explosive eCommerce growth is straining parcel carrier capacity at a time when customers want even faster, flexible (and free) delivery options. But adding more carrier services also adds a lot more complexity, especially if you still need to comply with your primary carrier contract commitments. Sendflex Parcel TMS helps you conquer complexity.
COMPLEXITY SIMPLIFIED
Sendflex Takes Legacy Shipping Systems to the Next Level
Simple rate shopping and label printing for a few carriers at point of shipping just isn't enough anymore. Sendflex provides modeling, planning, and monitoring tools that automate smarter transportation decisions throughout the entire order to delivery process. This means intelligent carrier service selection and accurate rating in shopping carts and order entry as well as transportation cost-effective cube utilization in fulfillment. And, of course, high speed automation shipment and returns processing across a more diversified network of carrier services.

Best of all, Sendflex Parcel TMS no-code wizards enable managers to configure simple instructions that optimize complex end-to-end fulfillment processes. Use the same instructions to run "what if" simulations against historical shipping data and analyze KPI impacts. And then easily re-configure instructions whenever business conditions change, without expensive software customizations or long IT project timelines.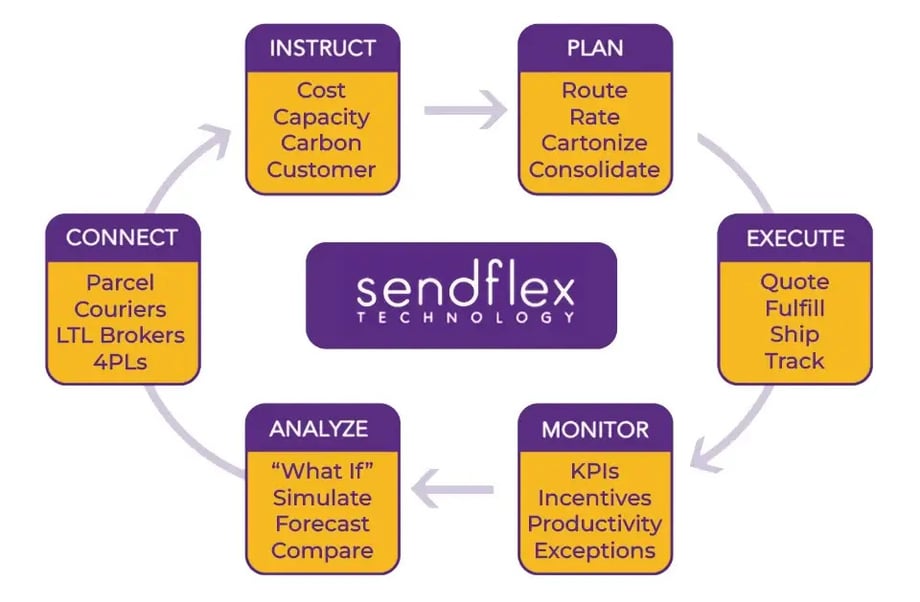 CONTROL COSTS, CAPACITY, CARBON, AND CUSTOMERS DELIVERY EXPERIENCES
How Sendflex Works for You
Diversified Carrier Network
With eCommerce still in its early growth stage (16% of retail), parcel volumes are expected to double in the next two years. You need a more resilient carrier network to reduce the risk of delivery disruptions. Our no-code approach to carrier onboarding makes it easy to expand your delivery network.
Hyperfast Carrier Rating
When you are quoting freight in shopping carts, optimizing plans, or running simulation models, you don't have time to "ping" carrier rating APIs. They are too unreliable and slow. Sendflex's innovative, high-speed carrier rating engine will accurately calculate parcel, LTL, and local carrier rates @ over 25,000 rates/second.
Omnichannel Fulfillment
Sendflex analyzes orders and looks for consolidation opportunities and the best fulfillment location based on cost, delivery time and inventory. Sendflex makes it easy to expand capacity, lower shipping costs, and deliver faster from omnichannel fulfillment centers closest to your customers.
Carrier Contract Compliance
Sendflex helps you avoid unexpected surcharges while achieving your primary carrier contract incentives. Monitor total spend, number of shipments, weight, and cube by user-defined date ranges and automate carrier service selections to ensure you comply with carrier contract minimums and maximums.
Optimize Cube Utilization
In addition to expanding your carrier network and consolidating parcel into LTL loads, Sendflex uses cartonization and palletization algorithms to help you make better use of your available capacity. The result? More orders shipped in less space, reduced waste, lower corrugated cost, and a better customer sustainability experience.
Sustainability
Sendflex helps you implement greener transportation initiatives to improve your customers' sustainability experience. Configure instructions to maximize container cube utilization, consolidate loads, and minimize corrugated waste. Control greener carrier service selections to ensure sustainability targets are achieved.
POWERFUL RESULTS
Sendflex Makes Everyone a Winner
Automate data-driven decisions to expand capacity, control shipping costs, and make and keep your delivery promises using a more diverse carrier network.
Reduce cost of ownership and time to benefit with secure, cloud-native deployments. No-code configurations and connectors eliminate long IT project timelines and costs.
Take the guesswork out of freight quoting and transit time calculations. Ensure you make and keep your customer delivery promises.
Help your carriers cube out their vehicles, consolidate loads, and tender shipments that align more profitably with their capabilities and constraints.
PARCEL TMS CONSULTATION
Let Us Show You What Sendflex Can Do for You
If parcel carrier management is getting too complex for you to handle, Sendflex can help. Our Parcel TMS platform helps you analyze, plan, and automate high volume shipping across a diverse network of carriers. Save money, capacity, and time while optimizing your customers' delivery experience.

LEARN
Download
The Five Parcel TMS
Value Pillars
EBOOK
Learn why controlling costs, capacity, carbon, and customer experiences matters in the B2C delivery economy
Shippers who are used to relying on a primary parcel carrier with unlimited capacity must now manage a broader portfolio of carriers, all with different capabilities, performance records, constraints, and rate structures.