Article:

From the Shopping Cart to the Front Door: How a Cloud-based TMS Helps Shippers Optimize Final Mile Delivery

For years, B2B shippers have relied on transportation management systems (TMSs) to optimize order consolidation, routing and mode shifting, load planning, carrier contract management, and shipping execution. Without a TMS, shippers were crippled: Managing complex less-than-truckload (LTL) and TL carrier networks was simply too hard and the costs of making rule of thumb decisions too expensive.

By contrast, parcel shipping management was—and is—a breeze. As a shipper, you simply pick a primary parcel carrier, weigh cartons, and print labels without much thought at all about whether or when your chosen carrier could deliver to final destinations. No TMS required. In fact, parcel carriers were happy to give you a shipping system to automate your own rating and label printing.
Exploding eCommerce parcel volumes have changed the overall role of a TMS.
Fast forward to 2021. National parcel carriers are running out of capacity. As a result, they are raising some shipper's rates by as much as 25%. They are adding surcharges, rationing pickups, and terminating contracts. And with eCommerce representing 16% of retail sales (and growing), the situation is only going to get worse.
In response, smart shippers are diversifying their carrier networks to accommodate final-mile deliveries. But with carrier diversification into the final-mile space comes increased carrier management complexity. Final-mile small package shipping is starting to look an awful lot like LTL and TL freight management, requiring more automated, data-driven decision support. Guesswork is not an option with parcel and freight costs increasing and customers demanding faster, free, and on-time delivery options.
The time for final-mile TMS optimization has arrived.
Final-mile TMS Optimization Spans the Entire Fulfillment Process
With increased carrier diversification, shipping B2C orders through to the final mile requires decision support embedded at every fulfillment stage:
Shopping Carts: eCommerce consumers expect online merchants to make and keep delivery promises early in the purchase process. With an expanded network of carriers, this isn't as simple as it used to be with a single national carrier. Regional and local final- mile carriers have many more limitations and constraints—from service coverage areas and equipment to the types of products they are able to handle. But they also offer capabilities consumers now expect, like over-the-threshold, "white glove" delivery setup, and trash removal. Shippers need a way of quickly matching delivery requirements with carrier capabilities, constraints, and customer preferences.
And because customer expect free delivery and/or same-day delivery, accurately determining base rates and accessorials is crucial to maintaining profit margins. This means shippers will need to employ cartonization algorithms to calculate the quantity and size of cartons based on order SKU dimensions, weight, shapes and packing rules, which can vary widely.
In addition to determining which carriers are qualified to make deliveries and at what cost during the check-out process, shippers need to factor in historical carrier performance to ensure they can set expectations about delivery times.
Order Fulfillment: Consolidated drop shipping is an increasingly popular carrier diversification strategy. But this approach requires transportation optimization planning, the ability to look across many orders upstream from fulfillment and determine if there is enough density to make it cost-effective to build a middle-mile LTL or TL move for delivery to a final-mile carrier hub, while keeping customer delivery promises.
Warehouse management systems are good at directing small pack picking and packing, but few take transportation costs into account. How shippers pack orders has a significant impact on carrier costs, unexpected DIM fees, damage, returns, waste, and customers' sustainability experience. Shippers can use the same cartonization algorithms used in shopping carts to avoid these costs and ensure cube optimization.
Shipping: Creating a carrier label at time of shipping is easy. But that's not enough to optimize shipping operations. When an order has been picked, packed, and is ready to ship, it is important to take last-minute, real-time carrier routing factors into account. Is the shipment going to make the carrier cutoff time? If not, then what's the next option? Is the shipment going to exceed the carrier's daily volume limit? Will it satisfy the shipper's annual contractual commitment to its primary carrier? Ignoring these real-time carrier routing considerations can result in missed delivery commitments, unexpected surcharges, and lost contract incentives.
Analytics: eCommerce fulfillment strategies are evolving. Freight TMS systems have always been good at looking at historical shipping data and using it to help make better decisions in the future. The same is true for final-mile TMS optimization. Machine learning technology enables TMS platforms to auto-update carrier selection instructions based on past carrier performance.
Parcel Shipping Systems Need a Final-Mile TMS Optimization Boost
For eCommerce businesses to succeed, legacy parcel shipping systems are going to need to support more cost-effective and capacity-effective decision making throughout the enterprise. For more information about how the cloud-based Sendflex final-mile TMS optimization platform helps shippers meet B2C delivery challenges, contact us at…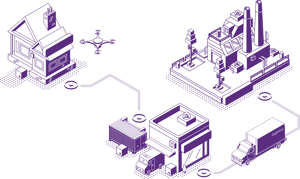 LEARN
Download Top 10 Things Retailers Can Do to Optimize Their Customers' Delivery Experience
EBOOK
Learn how to optimize the quality and cost of your D2C delivery experience
Shipping technology developers and integrators, 3PLs, and shippers need to shift the focus from automating shipping processes to optimizing the quality of a seamless D2C delivery experience. Here's how.
DELIVERY CONSULTATION
See What Sendflex Can Do for You
Are you struggling to keep up with the consumer demand for faster, cheaper delivery service options? Is it time for a smart multi-carrier parcel solution?
Whether deployed on premise or accessed from the cloud, our shipping platform apps and APIs support your entire extended enterprise: carrier selection, rating and routing, cartonization, shipping and drop shipping, tracking, and returns.