Webinar:

How to achieve delivery excellence through the Final-Mile Maturity Model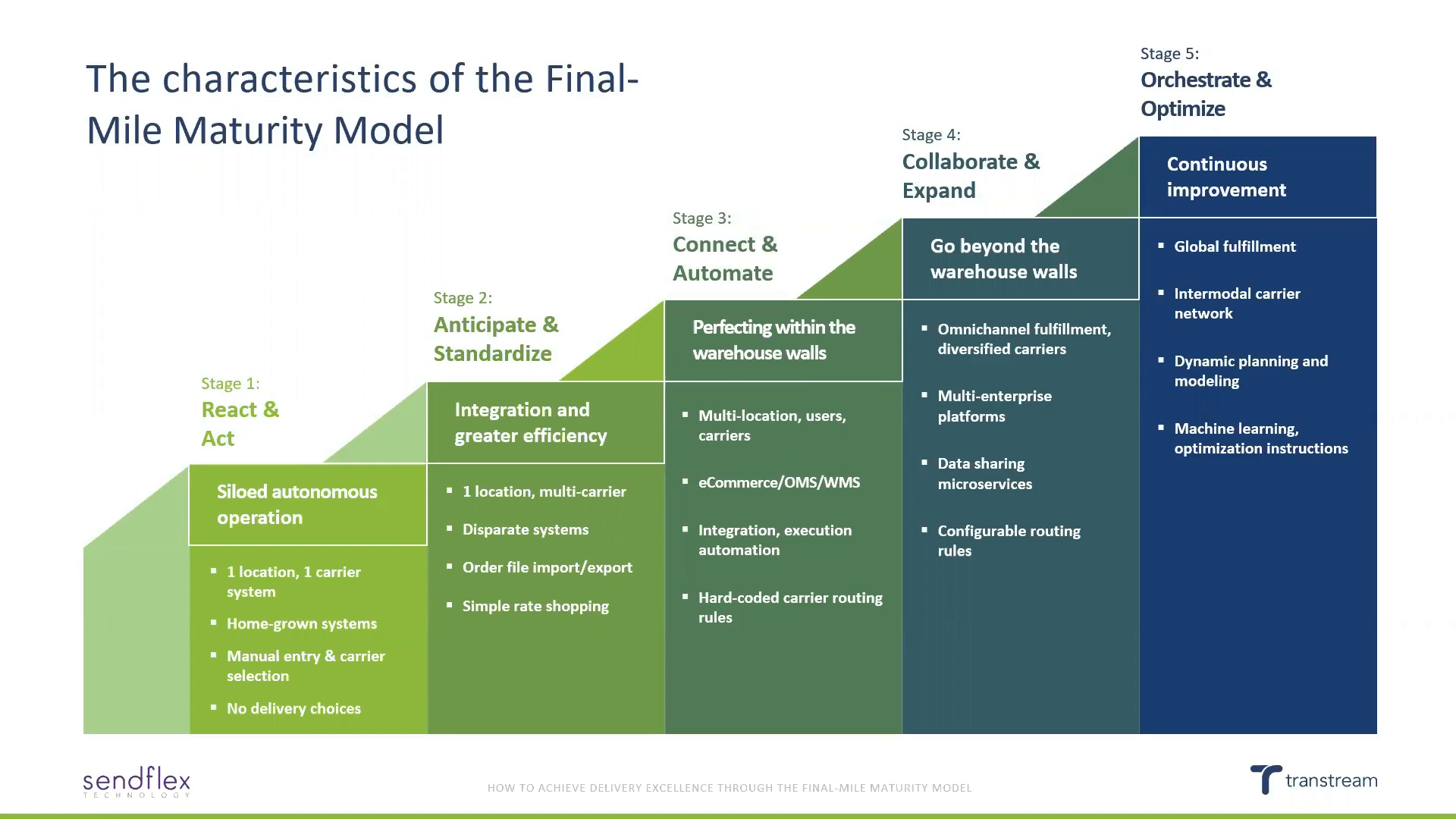 Today's shippers face high customer expectations in an increasingly complex and challenging shipping environment. Customers expect low-cost and on-time deliveries that are sustainable, trackable, and returnable. Carrier capacity has wildly fluctuated while eCommerce revenue and parcel volumes continue to increase with some ebbs and flows in demand. But even with a potential softening of the economy on the horizon, shipping costs continue to rise.
These conditions make it increasingly difficult for shippers to meet expectations, make and keep delivery promises, and increase order through-put while preserving margins. As a result, shippers are implementing decentralized, omnichannel fulfillment strategies and diversifying their final mile carrier networks to ship from inventory sources closer to their customers.
Use the final-mile maturity model to scale shipping, survive through market uncertainties, and drive profitability in your fulfillment practices. What you will learn:
What are the five stages on the final-mile maturity curve and how do you stack up against them
How to overcome the common constraints between maturity stages to progressively evolve and improve as you grow
The thinking, practices, systems, and KPIs to put in place for each maturity stage
DELIVERY CONSULTATION
See What Sendflex Can Do for You
Are you struggling to keep up with the consumer demand for faster, cheaper delivery service options? Is it time for a smart multi-carrier parcel solution?
Whether deployed on premise or accessed from the cloud, our shipping platform apps and APIs support your entire extended enterprise: carrier selection, rating and routing, cartonization, shipping and drop shipping, tracking, and returns.