Webinar:

How new Parcel TMS
platforms help you conquer
complexity and control costs, capacity, carbon, and customer delivery experiences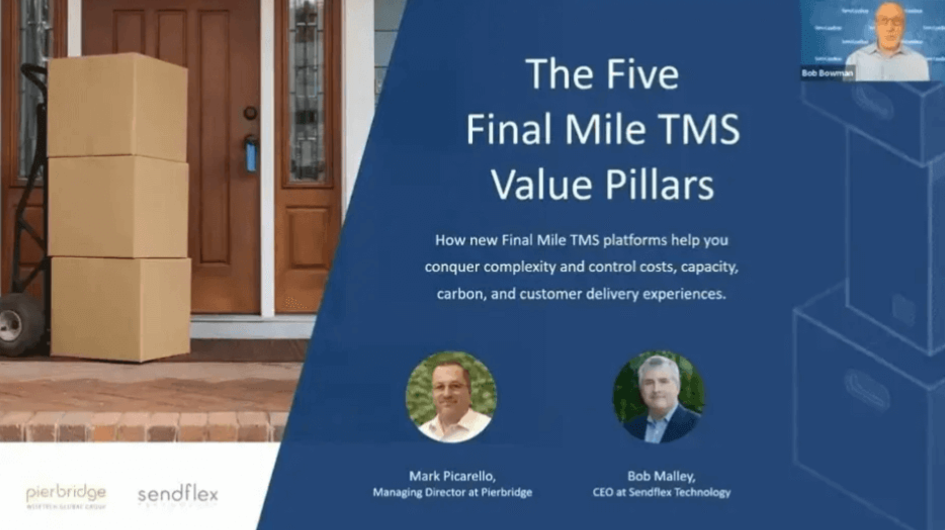 Final mile delivery volumes continue to increase with parcel shipments expected to double by 2026. Meanwhile, carrier rates are rising because of constrained carrier capacity, driver shortages, and higher fuel costs. Consumers are demanding a wider variety of free delivery choices like same-day and over the threshold.
In response, shippers and their service and technology partners are implementing omnichannel delivery strategies and diversifying their carrier mix. But these require more extensive planning and decision support throughout the order-to-delivery cycle.
Learn how parcel TMS capabilities will help shippers control costs, maximize capacity utilization, minimize carbon, and delight customers, including:
What are the five final mile value pillars, and why they matter in the B2C delivery economy
How to apply freight shipping optimization strategies at the speed of parcel shipping
Real-world examples and scenarios on the final-mile criteria and instructions that will deliver better control, lower per-shipment costs, overcome carrier capacity constraints, make sustainable shipping sustainable, and improve customer delivery experiences
How parcel TMS technology can adapt legacy parcel TMS systems to meet today's delivery challenges
DELIVERY CONSULTATION
See What Sendflex Can Do for You
Are you struggling to keep up with the consumer demand for faster, cheaper delivery service options? Is it time for a smart multi-carrier parcel solution?
Whether deployed on premise or accessed from the cloud, our shipping platform apps and APIs support your entire extended enterprise: carrier selection, rating and routing, cartonization, shipping and drop shipping, tracking, and returns.