Our TMS Solutions Span your Entire Final Mile Fulfillment Process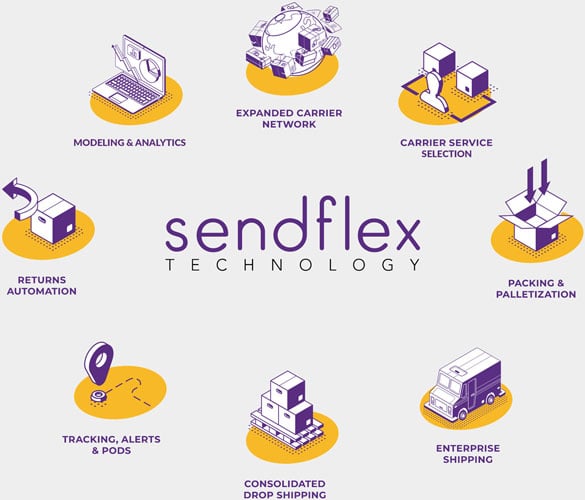 eCommerce customers today demand more and faster delivery options, and of course for free. Sendflex automates routing, rating, shipping, and tracking across a more diversified parcel, LTL, and final mile carrier service network. More choices will improve customer retention, capacity and resilience.

Carrier Service Selection
Adding more carrier services also means adding complexity to routing decisions. Sendflex configurable carrier routing instructions match delivery requirements with carrier compliance terms, capabilities, constraints, and preferences.

In a capacity crunch, vehicle space is precious. We use algorithms to calculate the best and most transportation cost-effective way to pack and palletize orders. Sendflex helps you ship more orders in less space while avoiding unexpected DIM fees.

Sendflex apps and API automates omni-channel shipping. Route, rate, ship and track from anyway including DCs, mail centers, stores, and home offices. Or use our TMS optimization planning platform to complement your existing legacy shipping system with more intelligent decision making.

Consolidated Drop Shipping
One way to expand capacity while reducing shipping costs is to drop ship B2C orders into final-mile delivery networks. Sendflex automates that process by building optimized plans that look across orders for consolidation opportunities and executing middle and final-mile moves.

Pitney Bowes research indicates consumers, on average, track orders eight times before delivery. Sendflex can provide tracking updates and send alerts. We also store easily accessible proof of delivery signature images in our database for your convenience.

Consumers rank return policies as a primary reason for shopping cart abandonment. Sendflex generates parcel return labels but can also monitor inbound returns and automate consolidation into less expensive LTL freight cost per pound.

In the same way that Sendflex can generate optimized plans, you can apply reconfigured optimization instructions to historical shipping data to generate "what-if" analyses. We help you gain insights into potential capacity, cost savings and delivery performance.
LEARN
Download 10 Brand-Enhancing Moves Retailers Can Make to Optimize Customers' Delivery Experience
EBOOK
Learn how to optimize the quality and cost of your B2C delivery experience
Shipping technology developers and integrators, 3PLs, and shippers need to shift the focus from automating shipping processes to optimizing the quality of a seamless D2C delivery experience. Here's how.
FINAL MILE TMS CONSULTATION
Here's What Sendflex Can Do for You
If carrier management is getting too complex for you to handle, Sendflex can help, saving time and money while optimizing your customers' delivery experience.