Improve Your
Brand Value and
Reduce Costs
Offer consumers more intelligent delivery choices.
Reduce delivery damage and waste.
Optimize sustainability experience.
Ensure delivery promises are kept.
Keep consumers informed about orders in transit.
Offer more convenient and simple return services.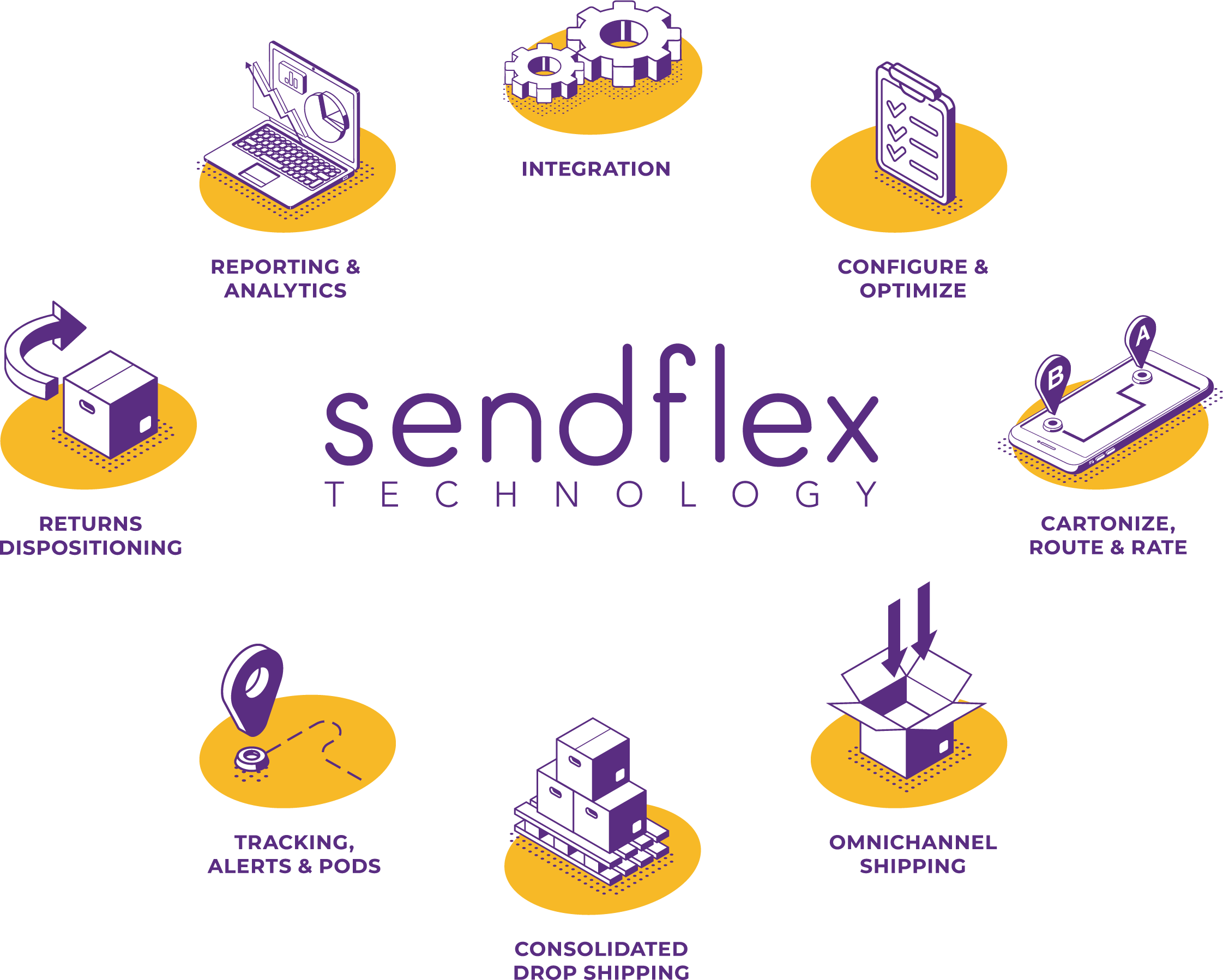 Deploy on premise or in the cloud. Connect and access orders from WMS, OMS, eCommerce platforms, or multiple marketplaces and return results. Or use our powerful API to execute shipments for hundreds of carriers.

Apply configurable delivery optimization to orders, such as last-mile carrier capabilities and limitations, product attributes, service quality, ETA confidence, total weight, cube, and cost to ensure a great delivery experience every time.

Optimization algorithms also help determine the most transportation cost-effective way to pack and ship orders based on SKU weight and dimensions, shape, DIM factors, % fill, "don't pack with", fragility, and other configurable rules.

Transtream scales to support shipping from thousands of DCs, stores, suppliers, and mail centers. Connect to scales, thermal label printers, and other material handling devices to fully automate shipment processing from any location.

Consolidated Drop Shipping
It is increasingly important to ship using local carriers. With Sendflex, you can process parcels "as if" from a local ship-from location, open a container, load the parcels, close the container, and then drop ship into the local facility.

Track orders from point of shipping to final delivery by any carrier. Proactive email and text alerts keep your customer informed. PODs are stored with shipping records to help customer service and accounts payable automate their processes.

Customers expect simple, convenient, and free returns. And returns alternatives. Print smart return labels at time of shipping for USPS drop-off, or embed self-service return widgets in your website, print labels, and request pickups at home.

You can only manage what you measure. Analytic dashboards provide the insights you need to guarantee continuous improvement in delivery experience quality.
LEARN
Download 10 Brand-Enhancing Moves Retailers Can Make to Optimize Customers' Delivery Experience
EBOOK
Learn how to optimize the quality and cost of your B2C delivery experience
Shipping technology developers and integrators, 3PLs, and shippers need to shift the focus from automating shipping processes to optimizing the quality of a seamless D2C delivery experience. Here's how.
DELIVERY CONSULTATION
See What Sendflex Can Do for You
Are you struggling to keep up with the consumer demand for faster, cheaper delivery service options? Is it time for a smart multi-carrier parcel solution?
Whether deployed on premise or accessed from the cloud, our shipping platform apps and APIs support your entire extended enterprise: carrier selection, rating and routing, cartonization, shipping and drop shipping, tracking, and returns.