Wrapping Up 2023: Logistics Trends You Need to Know
The highly dynamic and rapidly evolving logistics industry has experienced a seismic shift in recent years. Accelerated by the global pandemic in 2020, the industry has been reshaped by rapid technological advancements, evolving customer expectations, and innovative business models. More recently, carriers have seen a substantial drop in their operational volumes, driven by factors like global trade dynamics, supply chain disruptions, and fluctuating demand patterns. While shippers have seen an increase in costs, unstable freight rates, ongoing labor shortages, expansion of surcharges, and difficulty securing reliable logistics partnerships.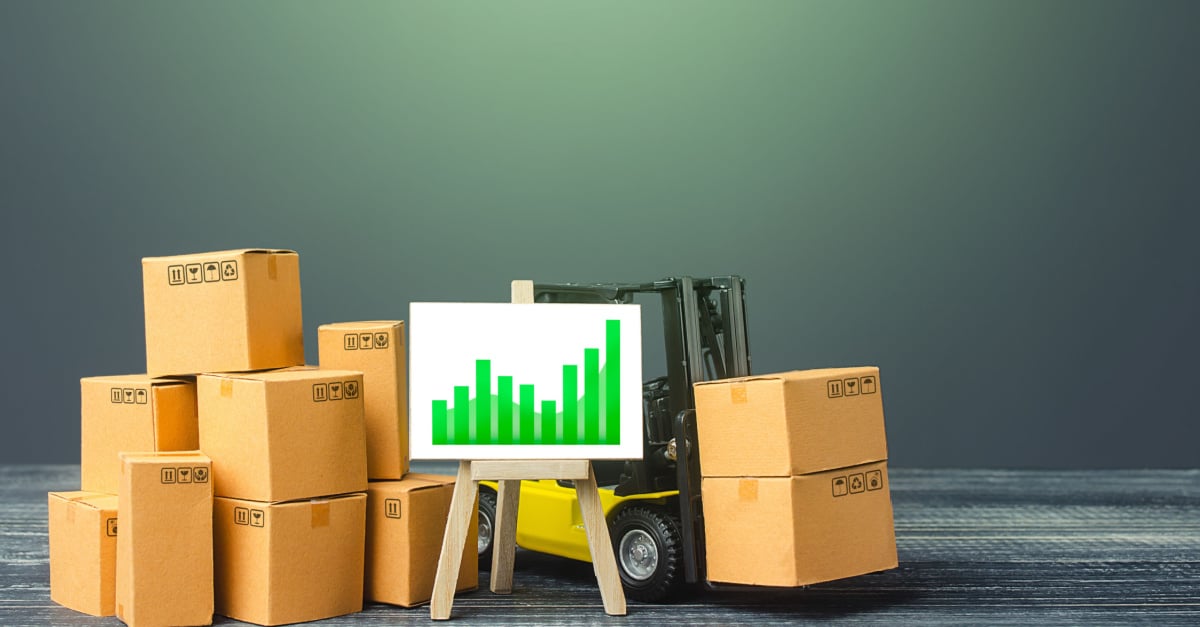 Undoubtedly, the logistics sector is at an inflection point – recently termed "the great reset" in the 34th Annual State of Logistics Report from the Council of Supply Chain Management Professionals by global consulting firm Kearney. T The industry is urged to prepare for an uncertain future fraught with geopolitical tensions, cybersecurity threats, climate change implications, and potential global recessions. Business will need to lay the groundwork to establish more resilience and fortitude in the face of the challenges and changes that 2023 and beyond will inevitably bring.

This article examines the high-level logistics trends industry professionals need to know about to navigate the changes, challenges, and opportunities in the months ahead.
Top 2023 Logistics Trends
Logistics and its Growing Share of GDP
In an unprecedented shift, the U.S. Business Logistics Cost index (USBLC) has escalated to a record $2.3 trillion, accounting for 9.1% of the national GDP - the highest in history. Compared to last year's $1.85 trillion, the USBLC exhibits a dramatic 19.6% year-over-year growth from 2021 to 2022 and a staggering 46% growth since 2020.

The surge in the USBLC underscores the logistics industry's expanding role and relevance in the economy, hinting at potential growth opportunities for logistics companies amidst heightened competition. The rise can be attributed to several factors, including ongoing reliance on a globalized economy, a burgeoning eCommerce market, and increasingly complex supply chains. Additionally, shifts in consumer behavior and expectations, tech-driven logistics transformations, and regulatory changes have contributed significantly to increased spending on logistics services and solutions.
Dynamics in Parcel Volumes and Costs
Parcel volumes have seen a remarkable trend reversal, nearly returning to pre-COVID levels. This shift can be attributed to changing consumer behavior and the reopening of physical stores after lockdowns were lifted. However, the Pitney Bowes Parcel Shipping Index reported a 2% dip in U.S. parcel volumes in 2022, alongside a 6.5% increase in carriers' revenues. This suggests a strategic shift among major parcel carriers, who appear to perhaps prioritize profitability over volumes—or as one parcel executive stated, "better not bigger", a move that could have significant repercussions for small and medium-sized businesses.

The paradox of declining parcel volumes and escalating costs can be attributed to several factors. Increases in operational costs, surcharges, and rate hikes certainly contribute to the trend, but it also appears that major carriers are adjusting their business strategies—favoring high-margin services provided to smaller shippers over the higher volumes required by large shippers, refining pricing strategies to align with costs, and implementing other cost reduction measures.

From a broader perspective, these trends imply a recalibration within the logistics industry. Major parcel carriers may seem to be more selective in target customer selectively, focusing on segments yielding higher profits. Furthermore, the trend may also suggest a move toward service diversification, with carriers potentially capitalizing on the demand for higher-priced services with corresponding surcharges or accessorial fees. . By understanding these shifts, logistics companies can better position themselves in a challenging parcel market through more intelligent parcel solutions.
Disconnect Between General Rate Increases and Effective Rate Increases
UPS and FedEx declared a general rate increase (GRI) of 6.9% for 2023, which includes base rate changes and surcharges. This represents the highest increase in recent history, with the last decade never surpassing more than 5.9% in a year. Despite this average price hike, however, the plot thickens when considering the 'effective rate increase,' which exceeds 10% for many shippers after accounting for zip/zone coverages and additional surcharges.

The discrepancy between published and effective rate increases can be attributed to the fact that the GRI is an averaged figure, often failing to reflect the nuances of the logistics business. The actual rate increase that individual shippers experience can be much higher due to factors like service type and zone, changes to surcharges and fees, adjustments to dimensional weight pricing, and alterations in discount structures. While the declared rate increase offers a rough estimation of expected shipping cost hikes, the effective rate increase provides a more precise picture of the actual cost implications for shippers. Logistics professionals must consider both figures to develop an effective shipping strategy and limit unnecessary parcel spend leakage.
Surcharge Complexity
Shipping costs have a significant, often underestimated and unexpected companion: parcel surcharges. The additional fees imposed by major carriers substantially inflate the final shipping cost, creating a gap of 8-25% between expected and actual shipping costs according to Intelligent Audit, with most customers on the higher end of that range. Fuel surcharges, residential surcharges, dimensional weight surcharges, peak surcharges, and other fees drastically impact shippers' budget forecasts and operational decisions. The unpredictability of unavoidable surcharges, like those tied to fuel prices or peak demand, further complicates cost estimations.

The impact of surcharges extends beyond direct financial implications. Their multifaceted nature and the complexities associated with each surcharge present formidable challenges to shippers. These complexities significantly affect operational decisions, carrier selection, and risk management. To navigate this convoluted parcel environment, many shippers invest in advanced shipping software or consulting services for effective surcharge prediction and management. As a result, the industry is witnessing a shift in shippers' carrier preferences, increased demand for rate management tools, and evolving competitive dynamics.
Carrier Diversification
In recent years, the dominance of legacy parcel and final mile carriers like UPS, FedEx, and USPS, is being increasingly challenged. The emergence of final mile and regional parcel carriers allows shippers to diversify their provider network for enhanced flexibility, strategic geographic coverage, and high-quality service. With broader networks, shippers can better navigate demand fluctuations, potential disruptions, and complex customer requirements.

This diversification does not come without challenges, as it can substantially increase the complexity of managing carriers and processes. Technology providers and platforms are paving the way in navigating this new era, providing shippers with solutions to centralize rating and routing, shipment management and tracking, and invoicing functions for carriers across their network. These evolutions signify a shift towards a more versatile and resilient carrier ecosystem.
Sustainability Pressures
Sustainability is a buzzword on many corporate agenda – the result of mounting pressures from investors, regulators, and customers alike, all demanding greener, more sustainable supply chains. Yet, a disconnect persists between the ambitious commitments made at the board level and the realities of managing logistics on the ground. The transition to sustainable operations is complex and often entails a significant overhaul of existing systems and equipment, which may necessitate substantial investment. Many organizations find themselves grappling with the challenge of allocating adequate resources to translate board-level commitments into tangible, operational-level changes, so innovative approaches toward sustainability will be a logistics trend for years to come.
Omnichannel Fulfillment and Carrier Preferences
Omnichannel fulfillment strategies continue to mature and evolve, bringing with them growing consumer expectations. Retailers of all sizes now regularly offer services like ship-from-store, buy online, pick-up in-store (BOPIS), locker pick-ups, and pick-ups at carrier locations. These practices are increasingly seen as the norm rather than the exception, reflecting shifting preferences for convenience and flexibility in how customers receive their purchases.

Against this backdrop, Amazon Prime's 1-2 day delivery promise looms large, influencing strategies across the shipping industry as competitors strive to keep pace. Large shippers with discounted rate structures may face notable challenges as major carriers like FedEx and UPS pivot towards courting small to medium-sized shippers at higher margins, seemingly prioritizing profitability over volume. This strategic shift has significant implications, particularly during peak seasons when pickup limits on larger shippers could push them to rely on alternative carriers to fulfill orders or incur substantial surcharges for exceeding pickup limits.
Parcel Technology Solutions
Parcel management technology increasingly leans towards configurable intelligence as companies grapple with swelling parcel volumes, complex rate increases, and myriad surcharges. This underscores the necessity for comprehensive, customizable solutions that allow shippers to effectively navigate these intricacies. As such, more businesses favor platforms that offer predictive analytics and can preemptively identify potential pain points, significantly enhancing operational efficiency and financial control in an ever-evolving logistics landscape.

Parcel optimization and orchestration platforms, like Sendflex, offer increased flexibility and scalability to shippers. This architecture promotes resilience, allowing businesses to adapt to changes in market conditions swiftly and efficiently. As part of these advancements, the concept of parcel orchestration has taken center stage. By applying intelligent business rules and features like location intelligence, smart cartonization, and contract compliance, these platforms empower shippers to not only react to costs but also proactively manage and strategize, bringing a new level of precision to their decision-making processes.
Looking Forward: Key Considerations for Future Success in Logistics
The logistics landscape of 2023 is a complex matrix of evolving trends and challenges, with rate increases, surcharges, and sustainability concerns reshaping the industry. Embracing these changes, while remaining customer-focused and cost-efficient, necessitates innovative, adaptable solutions.

Sendflex is a next-generation parcel orchestration platform, designed to help shippers navigate growing logistics complexities. Its cloud-native, microservices-based architecture caters to medium and large enterprises' needs, delivering high-speed, API-independent routing, time-in-transit, and rate calculations.

More than just a reactive tool, Sendflex empowers logistics managers with no-code configurability to run their own routing instructions and simulations and generate optimized plans upstream from shipping. This proactive approach enables businesses to continuously improve parcel management, streamline operations, and keep costs in check. As 2023 unfolds, Sendflex offers the opportunity to redefine your parcel management, elevating your operations to new heights.

Request a consultation with Sendflex today, and let's together transform your business's parcel shipping operations for the future.
LEARN
Download
The Five Parcel TMS
Value Pillars
EBOOK
Learn why controlling costs, capacity, carbon, and customer experiences matters in the B2C delivery economy
Shippers who are used to relying on a primary parcel carrier with unlimited capacity must now manage a broader portfolio of carriers, all with different capabilities, performance records, constraints, and rate structures.